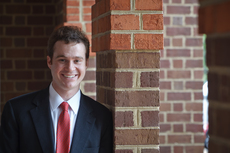 Peter Farrell is a graduate of UVA and is a former member of the Collegiate School Alumni Board and currently serves on the Board of Directors for the American Civil War Center at Historic Tredegar, the Board of Trustees for the Robert Russa Moton Museum and the Little Sisters of the Poor Advisory Board. In 2010, Peter was named one of the Top 40 Under 40 Leaders by Style Weekly. Peter also has served as a legislative aide to Senator Kenneth Stolle.

Peter is a small businessman and the founding member of Recast Energy, an energy company that provides thermal energy to industrial customers. In his business, Peter has had to deal with government regulations and red tape. He understands the necessity of a business climate that encourages investments and growth. Peter is excited to have an opportunity to work to grow our economy in Virginia, create new jobs, reduce unnecessary government regulation and promote quality education. Peter is a commonsense conservative who knows we need to get back to the basics. He is looking forward to ensuring the government starts working for the people, and not the other way around.

While in office, Peter wants to establish a reputation of honesty and accessibility. Peter's door is always be open to his constituents and peers. Peter aims to provide himself with the most information he can about a given issue, and will pursue the advice and opinions of his community accordingly.